Become a member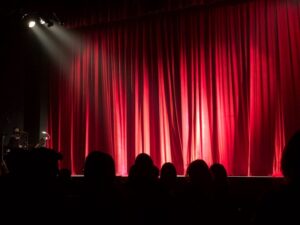 Our theatre is reliant on our dedicated team of volunteers, supporters and members, who often give up their own time to produce premier entertainment for the community here in South Shields.
Like all societies, more new members are needed especially bringing new skills that can be utilised such as woodwork, painting, dressmaking, retailing, publicity, customer service, the list is endless for a theatre society which needs so many talents as well as a new acting and production talents to carry on into the new era.
Our members come from all walks of life, often with very little theatrical experience. What they bring is boundless enthusiasm and a passion for the stage. They are an integral part of our history and we would like for you to be a part of it too. So, if you fancy taking part in one or more of the below areas, then complete a membership form and return by email to info@westovians.co.uk or post to the Theatre address on the form, or fill out the below membership enquiry form.
SET DESIGN /
BUILDING
PAINTING / ART
WORK / DESIGN
FRONT OF
HOUSE
PUBLICITY /
ADVERTISING
BOX OFFICE
PHOTOGRAPHY
SOUND
LIGHTING
ACTING
PRODUCING
DIRECTING
PROPS
COSTUMES
BACKSTAGE
BAR
COFFEE BAR
ADMIN
OTHER
ARE YOU INTERESTED? APPLY BELOW…
Please fill out the membership form and email it to: info@westovians.co.uk
fees to be arranged upon receipt of the form.